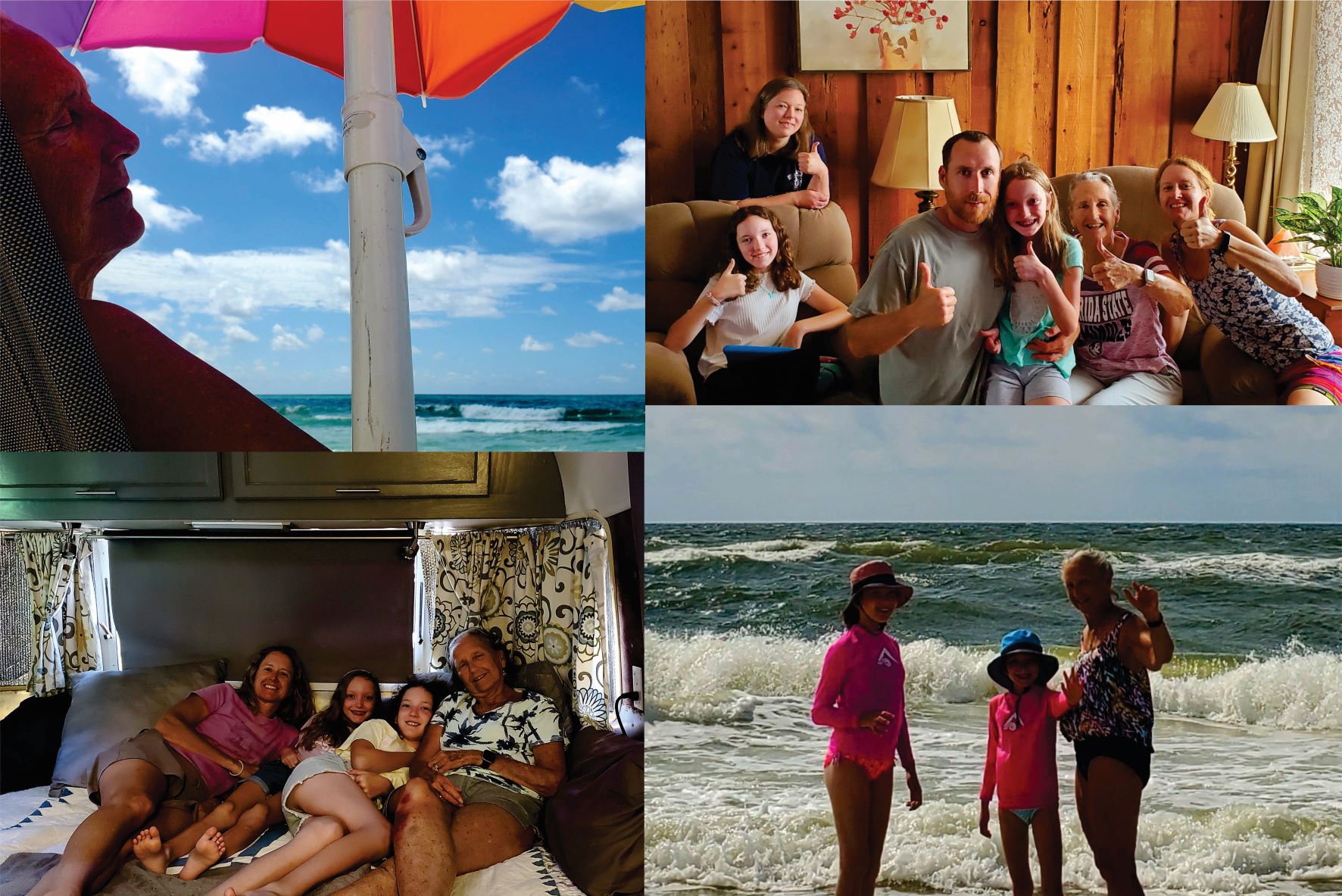 A Surprise and a Confession
January 2022 kicked off in north Florida with several winter excursions on the horizon. The first was a trip to Pensacola with my friend Jack. We facilitated two workshops at Gulf Breeze Recovery Center and camped at Gulf Islands National Seashore, where we enjoyed great fireside conversations and banjo sessions.

Fireside with Jack and his Banjo   –   Kristy, Danielle Guinaugh and Jack Pransky at Gulf Breeze Recovery Center
By mid-February I headed south to gallivant around Florida for a couple months. The plan was to scoop Mom up and head north as soon as temperatures warmed. By April, Mom kept mentioning zaps of little waves of headaches and occasional dizzy spells. I encouraged her to get an MRI to help settle her mind.
The Phone Rang
Mom sat down in her chenille recliner
with a flump that meant bad news.
I scooted close enough to hear
a mumbled voice of her oncologist.
She looked at me, held up three fingers,
pointed to her head, dropped her hand limp
in her lap, we listened on.
She pressed end.
Well poo, Mom said.
Her pink plaid sleeveless shirt
hung dingy on her 69 year-old frame,
tired after a long day of yard work.
Her hazel eyes and bare brows tilted up
with a hint of concern.
That explains why I've been so dizzy.
She stood to continue her chore,
a bag of vegetable scraps in her hand.
I followed her out the back door,
grabbed a rusty shovel from the shed.
She spread scraps; I turned the earth,
turned new buds of concern inside me.
Fireflies twinkled in boggy evening air.
I saw only flashes of three tumors
on the MRI of her brain.
This was quite the surprise. Mom and I were supposed to hit the road with my Airstream the next week for an east coast summer adventure. Instead Mom, my brother, and I began a marathon of doctor visits, scans, treatments and healing.
The tumors were metastases from Mom's breast cancer. Her cancer journey began in 2011, when she had a mastectomy and immediately changed to a whole food vegan diet to heal naturally. She enjoyed a clean bill of health until 2014. On a fluke scan for an unrelated condition doctors found both her lungs full of breast cancer tumors, too numerous to count. The scan looked like someone had flicked sopping wet paintbrushes, covering her lungs in an abstract painting of malignant growths. Her doctor said she had six months to two years to live. She'd been on continuous chemo since 2014 as well as several natural therapies. Now, here she was in May of 2022 still enjoying a normal life, but three new buds had sprouted in an inopportune place.
One tumor was in her brainstem: Inoperable and dicey. Mom took it in stride. We met her new doctor, a radiologist. Our connection felt special. On our first visit to his exam room we chatted like old friends for an hour. He was also vegan and he suggested a diet change to starve Mom's brain tumors: a vegan low carb (ketosis) diet and intermittent fasting. This meant a drastic change for Mom. No beans, rice or bread and very little fruit (all of which are her favorite foods). Avocados (which she despised) needed to become a daily staple. The cherry on top: She was not allowed to drive for at least six months.
As Mom and I walked out of the cancer center and into the parking lot, she held out her car keys to me.
"Take me home," she said.
Her keys plopped in my hand, and in that moment, I married my mom. In complete peace and with a gentle, unshakable, instant knowing, I became her chef, chauffeur and housemate.
It had been more than five years since I sold everything and set out to wander. There were many times I've thought "THIS is why I'm on this journey." Usually it's after I've had insights that turned everything I thought I knew upside-down, or while bathing in a breathtaking landscape, or after an incredible adventure that I could never have imagined.
This time was different. This time I knew: THIS! IS WHY I'm on this journey.
Everything I'd experienced culminated in being able to be with Mom in this special way. I have the physical freedom to live and work from anywhere and Mom and I share a simple, unshakable understanding of life. There were no decisions to make, no tough talks to have… We just kept on living.
Days later we made our first visit to
The Radiation Room
Muffled music trickles out a cracked door.
A nurse heaves open lead lined gates
to a blinding white room.
Speakers blast
                         drum beats
                                                     sing song screams
           electric guitars
Center stage is a crisp sanitary slab
under a watchful giant eye of a cranelike machine.
Prince's Let's Go Crazy is a bench vise on my head.
Royal blue scrubs prep, bustle, and dance.
Their mannerisms suggest I leave.
No time for hugs.
Mom's eyes whisper, Don't, please.
Both windows to her soul
are rimmed with tears, not yet spilt.
I want to scream, Shut off that noise!
but the coward in me won't.
I back out,
the colosseum's stone doors
shut with a thud.
Silence.
Radiation kicked Mom's butt. While she recovered, we spent lots of time with my brother and his family. We took week-long camping trips to Florida's Panhandle beaches and got tanned with our toes in the sand. All the while, I settled into living in a house without wheels .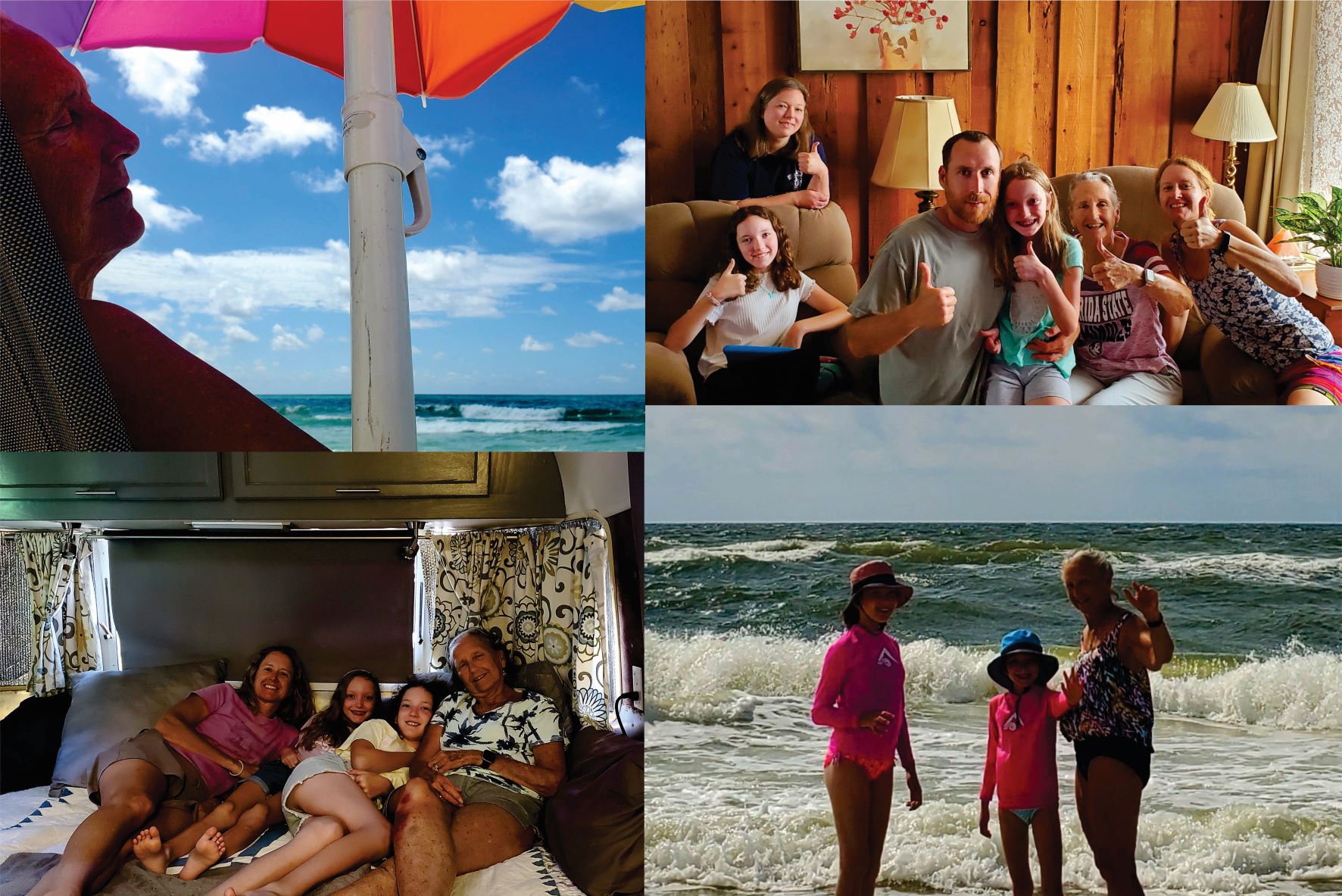 Beach Getaways and Family Time

I took up two new hobbies: writing my first book and repairing/upgrading my Airstream. I had no idea what I was getting into in either case. My Airstream repairs became a local attraction. Mom's neighbors were curious about all the time I spent on top of or under my trailer. I made new friends and learned lots about wiring electric, sealing roofs and seams, pulling cables, solar, antennas, replacing bearings, woodworking, riveting, welding and much more. I learned things I'd never have learned if I weren't living in a neighborhood of kind retired men who loved sharing their lifetimes of knowledge (and tools!). I feel like a seasoned mechanic now and have callouses to prove it!
By late September, Mom and my Airstream were both ready to roll. A client and friend from England snuck in a visit just before Mom and I set off for our long-awaited East Coast adventure. He flew in for an immersion as Hurricane Ian was barreling toward Florida. We got in two rounds of golf, fell into deep conversations, and before dawn on his final day he jetted off to the West Coast while Mom and I bolted north for what would be a glorious fall escapade.

Fall Adventures in the Northeast

Fast forward to January 2023. Mom is back to her old spunky self. Two of her brain tumors shrunk and the other melted away. She took back her car keys and has become a vegan-keto chef in training. She also grabbed the reins and is an assertive momma bird again. She is nudging me out of the nest.
"You've been here for one-fifth of your journey," Mom said. She sat in bed, legs crossed at the ankles; her TV prattled along in the background. I stood at the door.
"Ummm, no." The thought fell out of my mouth. Mom's one raised eyebrow suggested I rethink that.
"Um, yes," Mom said with a laugh and a sideways smirk. "You've been here 14 months!"
"But I left and I went places. I took you places too. We went all the way to Canada and back." I had to build my case. I hadn't been here for a fifth of my journey. "We've gone on lots of trips to camp at the beach too."
"You've been living with me since last November." Her mouth curled up on one side in a slight smile. "I don't need a babysitter, you can go now. I'm a big girl and can take care of myself."
So much has happened in the year that I married my mom 🙂 We even bicker like an old married couple now. This week I'll head off for a bit of meandering and then check back in. If all is well, I'll fly the coop, head north and follow the geese for a summer of exploring in the land of the maple leaf.
A few 2022 realizations and rememberings:
Relax and ride the waves that the ocean of everything sends our way. It no longer makes sense to fight "what is" or to worry/be fearful about what might happen. Mom, my brother and I stayed present and have become so close. There were no tears for what-ifs, no wasted energy in going through scenarios and forecasted bad outcomes. Instead, there was solidness, gentleness and a surrendering of any resistance to what was actually happening. We walked a meandering path and trusted we'd know what to do in the moment it needed to be done.
Home is anywhere and everywhere, and I can be happy with anything. I've enjoyed this time of little rootlets taking hold in a rural neighborhood in North Florida. I never wanted to be anywhere else. At the same time, I'm excited to spread my wings and coddiwomple into whatever comes next.
People enjoy helping. I've enjoyed helping Mom. The retired guys on Mom's street enjoyed mentoring me and being a part of keeping my home on wheels in tip-top shape. Sometimes it still feels needy to ask for help . . . The more I realize helpers often get as much out of it as me, the easier it is to ask.
Being grateful changes EVERYTHING. When I remember that we are in the midst of a perfect unfolding there is peace, gratitude and contentment, even when surfing the waves of a stormy sea.
Kristy's 2022 Travel Map:
My confession is: For a good part of the last 14 months I've slept in Mom's spare bedroom, not in my trailer. Although I still wandered quite a bit!
Four favorite places visited in 2022:
Vermont in October – Stunning!
New River Gorge National Park, West Virginia
Assateague Island National Seashore, Maryland
Adirondack Mountains, New York
A few favorite books this year:
The House in the Cerulean Sea, TJ Klune
The Immortal Life of Henrietta Lacks, Rebecca Skloot
The Little Paris Bookshop, Nina George
Caste, Isabel Wilkerson
And, just for fun, here are some stats from 2022:
-Visited 15 states
-Explored four National Parks, National Seashores and Monuments
-Covered  many miles of neighborhood walks and wilderness hikes. Mom even hiked part of the Appalachian Trail!
-Steps taken: 2,574,000 (Kristy) and 2,016,000 (Mom)
-I rode my bicycle just over 2000 miles
-Consumed at least 350 avocados
-Total spent on campground fees: $1,115
-Total spent on fuel: $2,968
-Spent countless nights cloaked in nature
-Made many new friends
-Had lots of wonderful visits with old friends
Our next small group exploration begins on Wednesday. We inquire together with no expectation to 'get something or find answers. Yet, it is guaranteed you will get something… and your experience of life shifts, often dramatically. And it's fun! We meet weekly live on zoom. For more info and to book your spot: Coddiwomple Group Program
Want to explore more intimately with the focus purely on you? Through one on one mentoring and coaching, people find peace, contentment, creativity, direction, freedom and more… problems fall away and decisions become a breeze. Curious? Check out what clients have experienced here. And check out what's possible for you here.
Get articles like this one delivered to your inbox
If you would like to receive intriguing stories, thoughts and ideas in your inbox once every month or so, sign up for the newsletter by clicking HERE