by Kristy Halvorsen   March 26, 2022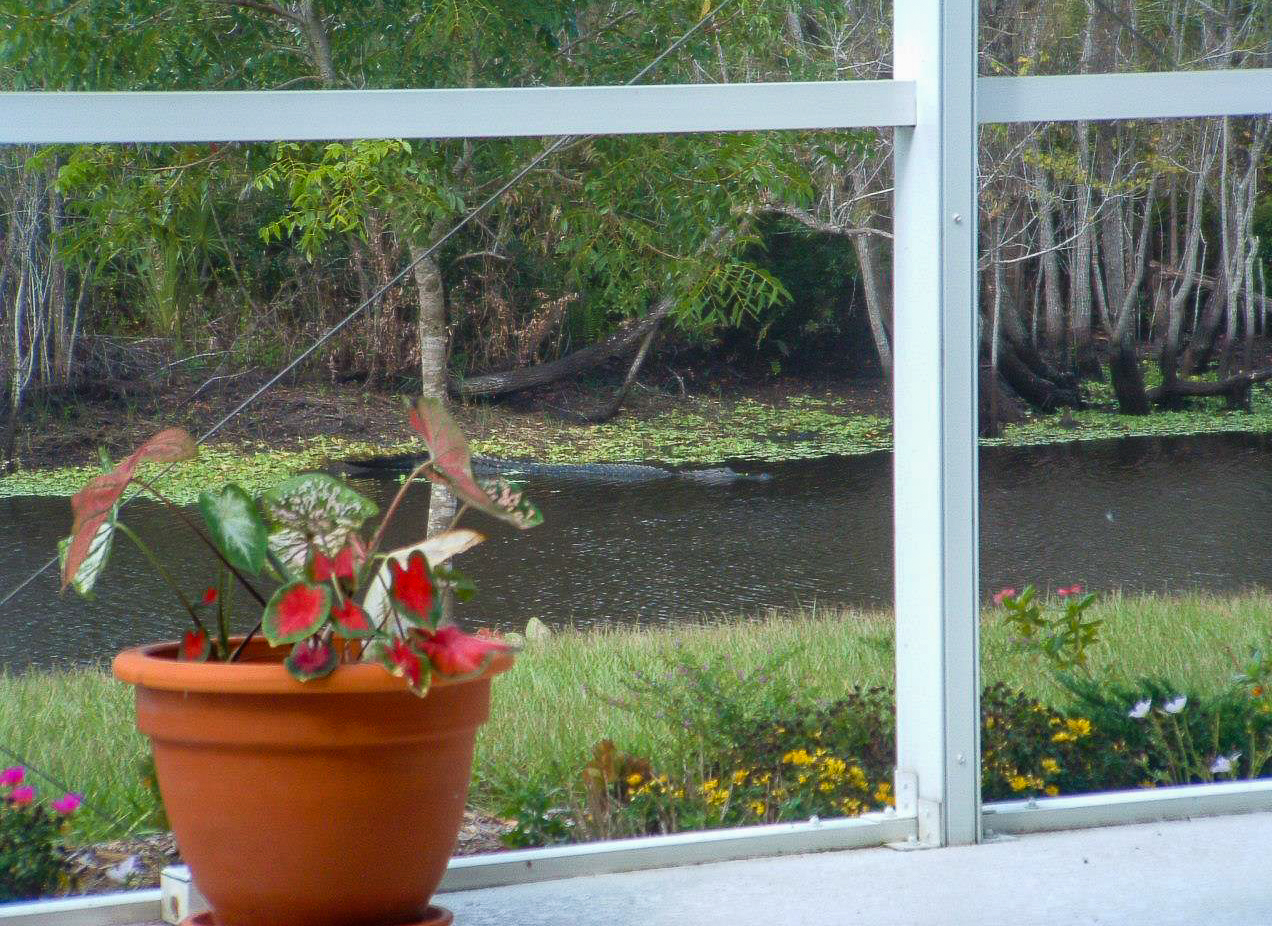 The last couple of months before I became a nomad were a whirlwind. Everything happened so quick that I didn't have a chance to catch my breath. It was as if the universe knew all the wonderful things ahead, knew I needed to let go, and knew it was best if it happened pretty damn quick.
One of the most difficult moves in letting go was offering my dream home up for sale, and shooing away a ten foot alligator named Max for the showings.
Let me tell you about what happened.
A grey haired couple with a Tennessee twang, who had toured the property twice before, dropped in for one last look.
"You ever get any gators back here?" Mike said
The three of us were standing on my lanai. Low golden rays peeked through the trees on Max's side of the canal and the water rippled with circles from largemouth bass gobbling up dinner.
"Mary here is scared of gators," Mike said. "And I ain't too fond of 'em myself."
The tangy scent of smoked southern Bar-B-Q wafted around us. A purple acrylic fingernail laid at the edge of the fresh painted ivory concrete. It stared back at me, taunting for an answer. The palm fronds overhead rustled in the breeze.
"Sometimes one'll swim by or sun itself on the far bank," I said. "But they don't come up on the lawn."
Bobwhite quails whistled their sweet calls. Mike stared across the water expressionless. His arm was around Mary's shoulder.
We signed the contract that night. Mike and Mary were going back to Tennessee and needed to close by noon on Friday. It was Tuesday evening.
Impossible, I thought.
No inspection. As is. No survey. Cash deal.
Complete. Trust.
My dream home was gone. Mike and Mary wanted my furniture too, even the paintings on the walls.
I let go of what possessed me.
How my dream house landed in my lap is a whole other story. Twelve years prior I walked in, took in the views and the wildlife, and I thought there was no way I could ever afford this pristine place. A few months later I moved in to that empty three bedroom two bath home with extra high ceilings and a back yard utopia. I arrived with my clothes and a hand me-down-futon. That was it.
I was 26 years old, had a great job with a pension and the world was my oyster. I imagined filling the house with family and friends and all the stuff I needed. It was exciting and at the same time, I didn't need any of it. But, I needed to fill the void of loneliness and lack that had grown in me.
I was groomed to live in muted sepia, to want the huge home with a view, filled with enough objects that could satiate the void. So I filled the house, but more than anything I enjoyed the wildlife outside.
I laid in my living room on my pleather sectional, exorbitant sliding glass doors opened onto a lanai that overlooked a scene out of national geographic. My groomed grass butted up against flowing dark waters that teamed with life. I'd fade to sleep while I watched great blue herons wade in the sawgrass, skewer snails with their beaks and gulp down escargot.
Bobcats sauntered by and I wasn't ever sure if it was a dream or real life. I'd jolt awake when Max bellowed his deep growled rumble of a mating call, so savage and passionate that it reverberated in my ribcage. Max was my friend and resident alligator that, for years, had favored a spot on the bank across the canal. Through sleep filled eyes, I watched in awe while water danced in crystals on his back in geometric alchemy, all lit by a full moon. I thought I was living the life, though I was a fan in the stands: Alone, a barren witness of the sweet allegory of life being lived.
I paddled my kayak on the murky water, but never set foot on the wild banks of the other side. Not once in twelve years of life in that picturesque paradise did I cross over to explore. This fact shocks me now as I realize the crazy truth in it.
                Looking glass
 Fade fast                                            go
                                                     Featherless folly
It wasn't easy to get rid of almost all of my possessions. Something deep inside called me to let go. Something wild. Something free. I craved to live now, and not wait until I was old and frail with plenty of money and time. I didn't know what would happen, but I knew the first step was freeing myself from this groomed way of living. I wanted to be wild again. This primal WANT was all the courage I needed to let go.
On our last morning together I sat on the groomed bank and shared alligator tears with Max, while he sunned himself on his muddy bank in the cool November dawn.
I left a welcome home card on the kitchen counter. Its purpose was to ask for patience, favor and love; to introduce new neighbors; to reveal Max's beauty and a giant's gentle nature. My words were a wish for his life, and his freedom to enjoy his side of the water.
Get articles like this one delivered to your inbox!
If you would like to receive intriguing stories, thoughts and ideas in your inbox once every month or so, sign up for the newsletter by clicking HERE
Would you like to live beyond what seems possible?
Most of us long to live with more happiness and freedom, and even a bit more childlike wonder. When I realized that I could live beyond the ideas and beliefs that were holding me back, everything changed… and there is still so much more to see! This is an open invitation to join me and my dear friend and colleague Natasha Swerdloff for an 8 week exploration into our true nature and seeing beyond how we've been taught to live.
More info here: Living Beyond
A Little Curious? Here Is A Four Minute Intro: