Remembering Dad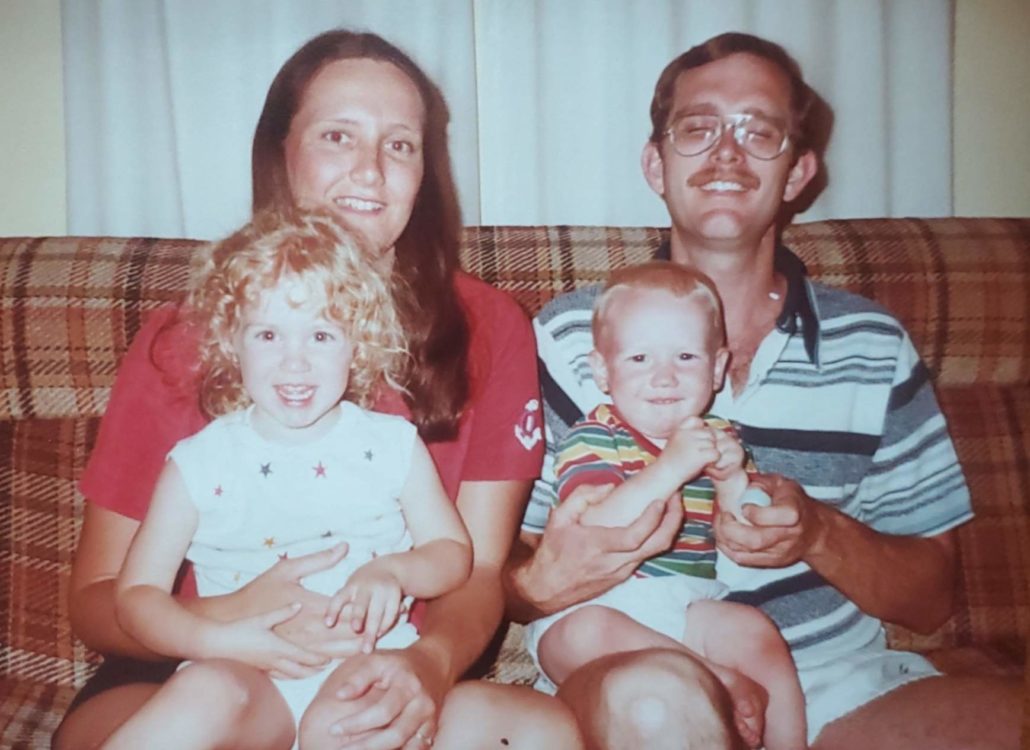 The Halvorsen's lost a big part of our family on December 1st, my Dad, also a husband, brother, uncle, poppy, grandpa, cousin and friend.
A beautiful string of events allowed family and friends to be together on November 20th for my step-mom's 70th birthday party. I headed south from Michigan almost a week early to be at Kathy's party and I arrived in town that afternoon just in time to join in the festivities. Dad was there mingling and enjoying time with grand-kids, but he didn't seem completely himself. Later that evening, at home, he began having severe difficulty breathing and was taken to the hospital via ambulance. He has struggled with congestive heart failure for several years and he fought hard. None of us would have guessed he wouldn't make it home. Although, he is Home and at peace.
Here is Dad's Eulogy that I shared at his Memorial Service. It's interactive and experiential. Click on the links to and listen to the songs for the full experience:
Dad's Eulogy
Dad loved the holidays.
If we could rewind the clock exactly 35 years, you'd find Dad sketching out a plan for Christmas luminaries on Cottage Grove Road. It was Dad's great idea and then Mom, my brother, Ben, and I got our whole neighborhood on board and in the Christmas spirit. Let's have an experience together of what Dad created and what it was like.
**Listen to the song softly in the background for the full experience: Do You See What I See – Perry Como**
Come on, let's take a ride together:
Imagine this: It is Christmas Eve, it's dark and there is a holiday nip in the air. We are driving up highway 27 in Tallahassee, Florida north of I-10. We slow and a take a left at the Gingerbread House Academy onto Cottage Grove. As we make the turn, we see small glowing brown paper bags lining both sides of the street, perfectly spaced and in meticulous straight lines. The two rows stretch all the way to Old Bainbridge Road. They form a holiday runway lit in a soft glow by hundreds of tiny bags that each hold one luminary candle.
Drive slow now, and turn off your headlights, take it all in.
Notice the twinkling lights in and on the homes and in the yards. A few driveways have huge candy canes at the end, and there are bows and wreathes on mailboxes and front doors. Neighbors are strolling along, having chats and stopping to enjoy hot apple cider or Christmas cookies on each other's porches. About ¾ of the way down the road we hear the booming of Perry Como's holiday tunes coming from a record player and speakers set up in a driveway. There are chairs on the grass and the scent of apple and citrus cider wafting from a crock pot on the porch. The house is lined with colored lights. There is a sprawling dogwood tree in the center of the yard lit up in white twinkle lights. This is obviously headquarters. Let's stop the car for a moment and feel the love here.
As we sit in front of 1840 Cottage Grove Road enjoying the sights, sounds and scents of a luminary lit Christmas Eve: What isn't obvious is all that's been happening behind the scenes the last few weeks.
For instance: Hundreds of lunch sized brown paper bags were each opened and folded down exactly three times, to keep them standing straight and tall for days. And the load of sand that Mr. Bond (no relation to James) hauled across town in his big black truck days earlier. And how little hands dropped four garden trowels full of sand inside each brown bag… And you probably haven't fathomed how many wheel barrow and little red wagon trips it too to deliver bags and candles to all of the neighbors. Or how long it took to mark with spray paint the perfectly measured spots on the ground that each bag would sit on.
Another thing that might not be apparent is how all the neighbors on the street got to know the two little freckle faced kids during the preparations. It may not have been obvious that this one event each year pulled together an entire neighborhood and brought holiday cheer to thousands of families that drove slow with their lights off to take in the magic, just like you are doing now. And what wasn't obvious to most is: all this happened because of my dad. But it did…
**Fade out Do You See What I See – No more music for now**
I hope you enjoyed the trip. I know my Brother, Ben, and I did… And it was a highlight of the holidays for many families every year.
Dad didn't know that he was creating a large extended family that would look after and keep those two freckled faced kids on the straight and narrow, even when he wasn't there to do it himself.
Dad loved being a Dad. He loved playing with his kids, his niece and nephews, and the neighbor's kids, and any kids. And he loved helping people. I remember when dad pulled over and picked up a homeless lady on a long stretch of highway 98 between Perry and my grandparents place on the Suwanee River. She looked like she was in rough spot in life and Dad welcomed her in. Ben and I sat in the back, and she sat in front. We drove her a long way. After we dropped her off and dad bought her some food, Dad explained all the things he considered: how he had our safety in mind. He helped us see how dangerous that could have been, but it needed to be done. He always wanted to help.
And this brings us to the brown waters of the Suwanee River, the miles and miles of limestone back-country roads and the space of love we all shared at Dad's Mom and Dad's House(my Grandparents). Their home and river property was the crown jewel of our family and the place where Dad seemed most at home. Dad shared about the early days and how everyone slept in tents and scared the wild boars off in the morning by banging pots and pans together. He also shared how he and his brother Chip and sisters, Sue and Cathy, worked all day clearing brush and trees preparing the wild land and beginning to build the Lazy H Ranch as Grandpa liked to call it.
Years later, this is where Dad taught his kids how to hand pump water, bathe in a river and hop out quick when water moccasins swam by. Dad sat for hours with the patience of a saint untangling fishing lines and teaching kids how to bait hooks with red wigglers. Next to the Suwanee River is where he promised those same kids that once they were tall enough to reach the pedals and see over the steering wheel, he'd teach them how to drive a stick shift.
Dad started teaching the kids early: by the time we were 5 or 6 he taught Ben and I to shift gears from the passenger seat. By the time we were 7 or 8 we were sitting in his lap and doing everything but working the pedals. All this so that we could sit in the driver's seat with full control by the time we could see over the wheel. And Dad did it! He was just crazy enough to let a ten year old drive a stick shift, that was our family's only car! He did this for Ben and me, and our cousins Katie and Michael as well. We all drove the limestone roads, and there are plenty of stories about preteen drivers stuck in ditches too.
These all are little known facts. And one thing is for sure: Dad had just as much fun as the kids.
Here are a few more little known facts about Dad:
Dad was a poet
Dad loved (seriously loved) Christmas Music, especially Perry Como
Dad was a gardener. In the 80s we had a huge garden complete with rows of corn, sprawling squash beds, tomatoes, and much much more. He and Kathy also turned into lemon farmers once they moved to Crawfordville.
One of Dad's nicknames was Snuffy, as he was named by the basketball team at Godby High (short for Snuffaloughagus)
Dad was also volunteer of the year in 2002 for Leon county schools for his service as a mentor at Godby High.
Dad lived in Alaska for 7 months with his mom, dad and sister Sue when he was 3.
Dad bred Golden Retrievers in the late 70s and early 80s
In his teens he played string base in a rock band called the Hay Market Riot with George Merrit
Most don't know we almost lost Dad and Kathy both twenty something years ago: The day Dad proposed on Pulpit rock in Alabama Kathy jumped into his arms and almost pushed him off a cliff (by accident of course).
All this to say, Dad was a good man, with the heart of a kid, that loved God, loved his family, and cared for his friends, even the friends he hadn't met yet. And he loved the holidays.
And this year: Dad was called home for the holidays.
**Listen to first 30 seconds of Home for the Holidays by Perry Como**
Rest well dad, and enjoy being home for the holidays.
Our family is grateful for the kindness of family and friends this past week and for Big Bend Hospice's compassion and support in his final days.
Dad's Obituary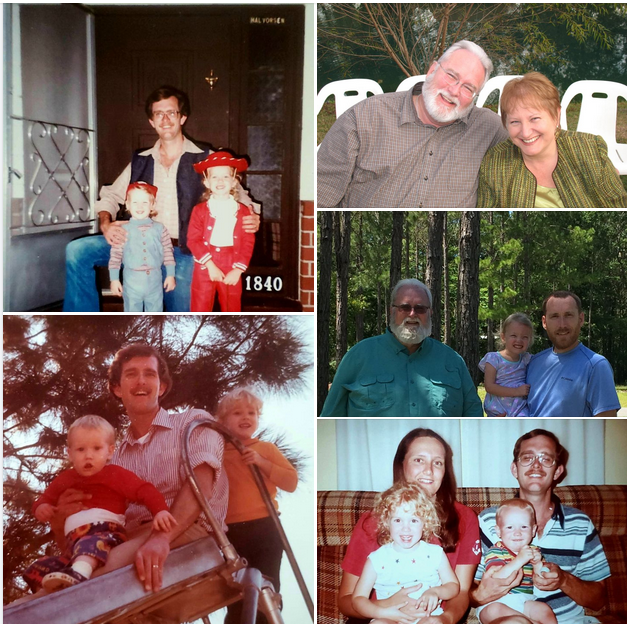 Get articles like this one delivered to your inbox
If you would like to receive intriguing stories, thoughts and ideas in your inbox once every month or so, sign up for the newsletter by clicking HERE