This Thanksgiving, I drove to Santa Fe, New Mexico, a historic town that was lightly dusted with fresh blanket of snow. I walked the picturesque streets in awe while snowflakes floated in the crisp air. As so often happens when coddiwompling, on my way back to my truck I felt led to take a different course.
I ended up on an empty walkway behind the Cathedral Basilica of St. Francis of Assisi. There were no statues or striking architecture, but just a bit further down the walkway there was a little girl rolling a giant snowball. Her mom and little sister were there too, and I mentioned to them that I've never actually rolled a giant snowball of my own. They encouraged me to try, so I did. It wasn't as easy as it looked. Before long, I had a little six year old girl with polka dot boots standing next to me saying, "Here, let me help you."
Her name was Phoebe, and she showed me how to get things going and soon we had sizable ball forming. The girl I first noticed turned out to be Phoebe's older sister, Lily, and her snowball was now massive. Seeing our two snowballs, their mom suggested that Phoebe and I stacked our ball onto Lily's and make a snow man. Having never made a snowman, I was even more excited about this idea than the girls. So we began.
Lily and I carried our huge ball together and sat it on top of hers. Then the process of creation began to flow. Within minutes, we had formed a naked snowman and we all stood on the walkway scanning the area, wondering what we could use to create special features and snowman parts. We only found leaves and more snow, but we carried on. Soon our snowman began to take on more of a feminine look (with delicate eyes and eyebrows made of leaves).
"Alright, she's a snow-woman… let's dress her up!" someone shouted. And so we did.
Before long she was wearing a beautiful dress and a hat sculpted of snow. Pinecones and leaves were found to fashion a bouquet for her to hold.
It was their mom who named our creation:
"Lupita", she said. "Lupita de la nieve"
When I asked what that meant, she explained that it translated as "Lupita of the snow."
For me, the most gorgeous part of the whole process was the uninhibited creativity. It flowed from beginning to end. One of us would mention an idea, and from that first idea little baby ideas would spawn. Several times I thought we were finished, but Lupita of the snow continued growing in intricacy and loveliness. Soon, she was walking a cute little dog named Guapo, who wore a tiny top hat with a decorative collar made of leaves. I was in awe again, this time with the tide of creativity spontaneously arising in this obscure spot behind a cathedral I hadn't even planned to visit.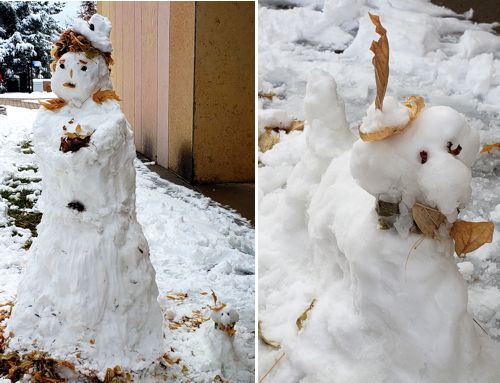 I learned so much about how to be in creative partnership from playing with the girls. There was never an idea that was squashed. Each new possibility was greeted with love, collaboration and encouragement. Lily and Phoebe were so present. There was nowhere they thought they needed to be and nothing else was on their mind. They were purely in the here and now. This snow sculpture on an obscure alley behind a cathedral needed not be seen by anyone. This was creation for creation alone.
The funny thing was, I wasn't really present with them. Although I was participating, I was also going in and out of the process of creation and thinking I had somewhere better to be. I had fallen into the trap of thinking there was something more important I should be doing, mentally heading back to my truck again and again, thinking about all the errands I had to run.
In those moments of overthinking, creating with the girls seemed like work and I felt continually drawn to leave. The make-believe future I was imagining kept getting in the way of a gorgeous present moment.
I was creating Lupita with Lily and Phoebe, but with one foot in the present and one foot in the make believe future. When I fully stood in creation together with these two beautiful children, it was delightful. They reminded me how simply kids live, especially little kids: They don't know how to be anywhere but the present. I was so lucky to be sharing in this beautifully creative time with these angelic little girls. What was happening was much more beautiful than anything I could have ever planned.
Standing behind the cathedral and noticing my wandering mind, I saw something new in something I'd first heard years earlier: "Be like little children if you want to enter the kingdom of heaven."
What if this sentence is pointing us towards the pure bliss of being a child and seeing the world as it actually is: living in wonder in the present, before thought and judgement appear to cloud our vision.
What if living in heaven is actually as simple is living life with the presence of a child?
What if simply being, with nothing on our mind, is pure bliss?
I continue to be in awe of the everyday lessons life presents me with. Sometimes they come in the form of a snowstorm on Thanksgiving Day, and a 'chance' meeting behind a cathedral. Sometimes, they come in the form of Lupita.
Yesterday, when I began working on this blog, I googled "Lupita" to find the origin of the name and was shocked at what appeared on the screen. The Virgin Guadalupe (like the Virgin Mary) has been a powerful symbol of Mexican identity for close to 500 years. The mom had named the snow woman Lupita, which translates as "Little Guadalupe".
As the legend goes, it was a winter day in 1531 when the Virgin Mary first appeared to a peasant in the form of a dark-skinned indigenous woman. On December 12th, just a few weeks after his original vision, she appeared again as a life-size image of the Virgin Mary on the inside of his robe. For millions of Mexicans and Mexican-Americans, December 12th holds special significance. Guadalupe's image is associated with everything from motherhood to feminism to social justice. She is a symbol of goodness, and Guadalupe watches over us.
For the girls and me, Lupita appeared in the form of a gorgeous snow woman, born from nothing on Thanksgiving day behind a cathedral in Santa Fe. We had no idea we were creating her when we began; she truly just appeared as we played together. And then, completely unaware of the significance, on December 12th it occurred to me to share Lupita's story.
Could this really be a coincidence?
Take a look at the two photos below. On the right is Lupita with the girls; on the left is a statue of the Virgin Guadalupe. I am astonished by the similarities, even down to the position of their arms.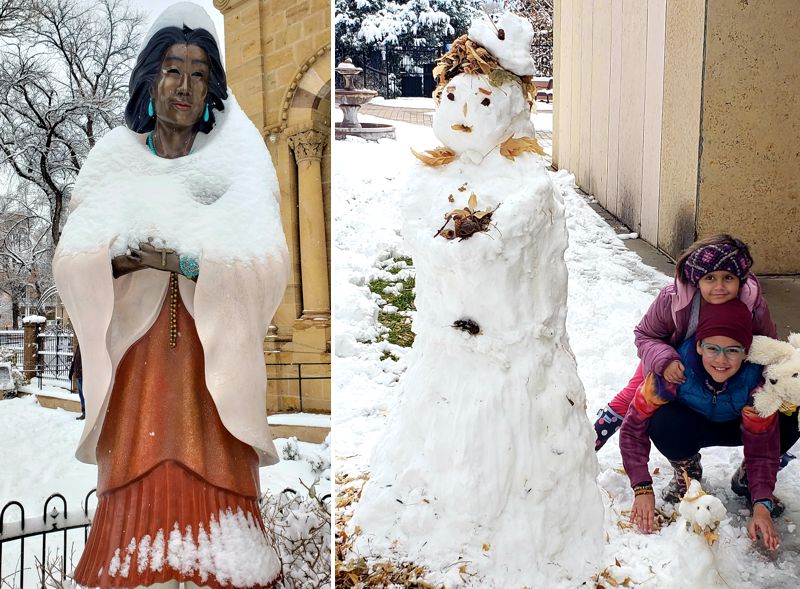 There is a creative force that responds to all of life. Some call it God. Some call is Source. Some call it the Universe. This creative energy has many names, but to me, it is Life itself. Life guides us towards what is good for the whole. Life appears to us in the form of pure creativity, and creativity is love.
Take a look into Lupita's eyes… notice the magnificence in the leaves staring back at you. This is life. This is pure presence and creativity. This is love. This is you.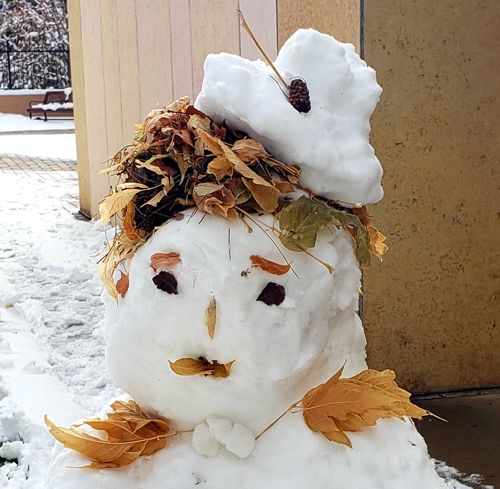 Upcoming events:
Three Month Small Group Exploration Begins in a few weeks ($99):
People come together from across the globe and want various things: to build a business, have better relationships, be more financially free, realize what they want to do in life, be healthier… and everyone sees something deeper. We meet once a week and life shifts for all of us in different ways. What we discuss crosses all boundaries. What we explore changes everything.
Freedom: An All Inclusive Five Day Retreat in Cuba March 26-31 ($895)
Want an explorative adventure in Cuba? I am so excited to announce that our upcoming retreat is ready and now OPEN for registration! If you have any desires to visit the sights of Cuba, this may be a great reason to get you there.
Five days in the Viñales Valley: Hikes, sunrise horseback ride, a farm to table dinner, culture, transformative conversations, and much more. Limited to only 8 people.
Get articles like this one delivered to your inbox!
If you would like to receive intriguing stories, thoughts and ideas in your inbox once or twice a month, sign up for the newsletter by clicking HERE